HP LaserJet Pro CP1525nw Color Printer support
Using HP ToolboxFX
The HP ToolboxFX is program you can use to complete the following tasks:
Check the product status.

Configure the product settings.

View troubleshooting information.
You can view the HP ToolboxFX program when the product is directly connected to your computer or is connected to the network. You must perform a recommended software installation to use the HP ToolboxFX program.
NOTE:
The HP ToolboxFX program is not supported for Windows Server 2003, Server 2008, Vista Starter, or Mac operating systems.You do not have to have Internet access to open and use the HP ToolboxFX program.
View the HP ToolboxFX
Open the HP ToolboxFX program in one of these ways:
In the Windows system tray, double-click the HP ToolboxFX icon (

).

On the Windows Start menu, click Programs (or All Programs in Windows XP and Vista), click HP, click the name of this product, and then click the HP ToolboxFX item.
The HP ToolboxFX program contains the following folders:
HP LaserJet Pro CP1525nw Color Printer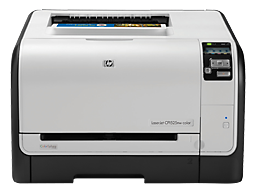 More for this product
HP Support forums
Find solutions and collaborate with others on the HP Support Forum